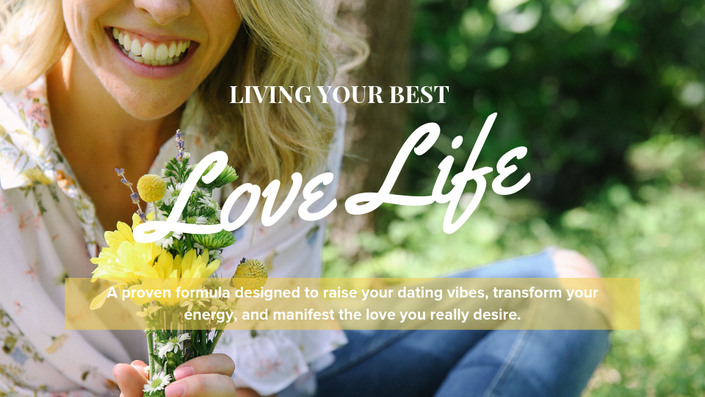 Living Your Best Love Life
A proven formula designed to raise your dating vibes, transform your energy, and manifest the love you really desire.
Enroll in Course
Join me in Living Your Best Love Life today and start manifesting the love you really desire and know you deserve.
Here's what you'll learn:
How to shift your energy to feel positive about your love life
How to manifest the love you want
How to feel confident that you'll meet your person
How to love yourself and be patient throughout the process
Rituals for staying high-vibed
Healings to cleanse your energy and connect with your intuition

Here's what you'll get:
6 Lecture Videos teaching you concepts to transform your love life.


Journaling Prompts to assist you with awareness, expansion, and clarity.


Guided Meditations that will help you receive messages from your guides and peace.


Shamanic Healings to start your energy transformation.



Ritual Instructions to super-charge your manifesting efforts.
Bonus video to help you get clear on what you want in a relationship.

"I am truly grateful to have found Nikki and The Final Swipe. Working with her has kickstarted a chain of positive ends in my life, and not just in dating. Nikki is insightful and understanding, gives you what you need to better yourself, but also wants you to learn to listen to yourself. She definitely tries to guide everyone in the course to hear their intuition, which has become one of the most important takeaways for me. She focuses on the bigger picture, on guiding everyone to a more positive place, and teaching you about what the universe can bring in if you choose to be positive and live more intentionally. I have sensed a shift in my life in a short 4 months and look forward to more positive changes as I continue working with Nikki!"
~ R ~
Course Curriculum
Bonus: Pre-Work
Available in days
days after you enroll
Introduction: Prepping for the Energetic Shift
Available in days
days after you enroll
Module 1: Why this Time Will be Different
Available in days
days after you enroll

"After joining Nikki's membership, I began to feel more confident than I've ever felt before. I have learned what my blocks are in life and what is holding me back. She gently guides you to honor what you know deep down is your truth. She has taught me to listen to my intuition, and reminds me I have all the answers inside of me, and that I do know what is happening. She teaches this, so that I am able to date without her and feel confident. I never thought I would feel ready to date or find my person, and now I am."
~ B ~

"Nikki's work revealed deeper truths about myself that led to a new awareness about blocks I had created around dating. After sitting with these truths I was able to get a much clearer picture of who I was looking for and two days later went on a date with a guy who had most, if not all, the qualities I had written down at Nikki's advice. I realized that I had the power to attract high-quality men with traits I admire instead of settling. Dating can bring up feelings of shame and unworthiness but Nikki helped me reclaim my power and take the steps to attract a man who is right for me."
~ L ~

"So I did your Divine Masculine meditation twice, and even preparing myself to receive this Divine love before then. Writing poems to him, imagining him as I take myself on dates and just loving myself whole heartily more and more each day. And then He showed up! We met the day before his birthday, and by my birthday we knew. My heart is fully opened and expanded. Thank you for the work you do and for this space. I'm forever grateful."
~ J ~

"If I have any kind of a love life, it is because of Nikki Novo. Working with Nikki has really helped me to understand and heal the blocks I've had when it comes to romantic relationships in my life. Nikki is able to listen and provide intuitive guidance, even at the group level, in a way that gives you exactly what you need to hear in that moment. I now feel confident and hopeful stepping into the dating world, and I am so excited to meet my person."
~ G ~

"Thank you for inspiring this and me… I wanted to let you know that I met someone just about one week after we spoke and we have been inseparable ever since! I practiced the heart opening and present meditation prior to swiping and that's when we matched. We have such a great connection and I'm so happy. After our call, I finally felt free of my ex and to let things take flow and happen naturally… so happy I took the leap and booked our session! Thank you!"
~ A ~

"Ladies! I already have a win for the week! I was just on the subway listening to a podcast and a REALLY cute guy started chatting with me and asked for my number. We've already been texting it looks like we're getting drinks next week. I'm a bit skeptical, but taking this as a sign from the universe that things are moving in the right direction and not putting any pressure on the situation at all. This is NEVER happened to me before!"
~ H ~

"When I was dating for two years on my own I felt like I was constantly going around in circles and was in a really negative place. I got into a pattern of negativity without realizing it. Since joining the program, I have a positive outlook on dating and just living. The community of ladies in the group is so supportive and often have questions that have gone through my mind. It is therapeutic to read that someone else is thinking whatever crazy thing I am thinking. I feel connected with women I respect and have never met before by bonding through our experiences in dating. A lot of my friends are married or in serious relationships so it is nice to have a set group that can relate to me and I can relate to them. Nikki is uplifting, positive, and her overall outlook on dating is refreshing."
~ E ~
Your Instructor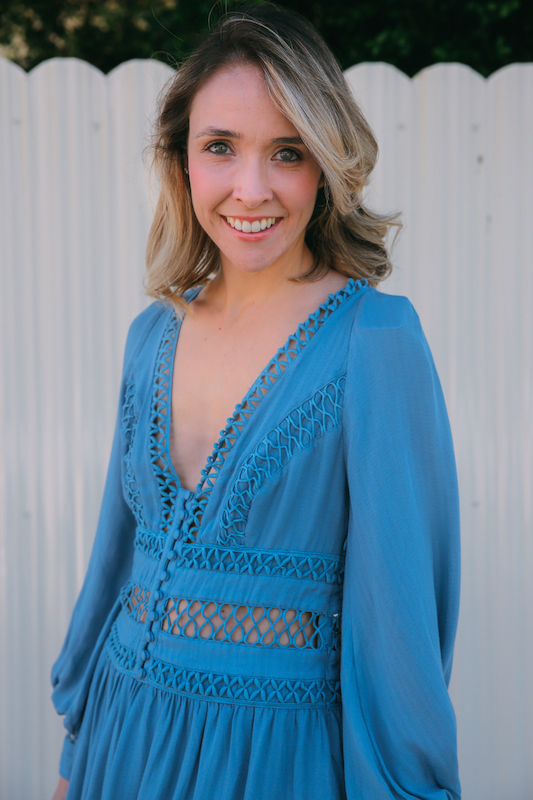 Nikki Novo is a Cuban-American, bestselling author and intuitive dating coach. Her latest book, "The Final Swipe: Heal Your Heart, Find Your Person, and End the Dating Search for Good," was listed as the number one dating book in Amazon. A certified hypnotherapist with the International Association of Counselors and Therapists, ThetaHealer(r) and Reiki healer, Nikki has also been commissioned to speak by organizations like Equinox, Yahoo, Macy's, and others. She has been featured in Marie Claire, NBC, and Telemundo.

Previous to becoming a dating expert, Nikki was the Miami editor for Refinery29 and an editor for MSN. Her work has been seen in Allure magazine, Town & Country, the Huffington Post, DailyWorth, and others. She also spent time in the publicity department of Lionsgate and Fox Searchlight in Los Angeles.
When she is not out healing hearts, Nikki is most likely enjoying her city farm in Miami, alongside her dreamy husband, teen daughter, rambunctious sons, and three-pound Yorkie — who is also her desk mate.